Virginia's SHARP Logger Program
Keep up with the Training Schedule on the Training page
Keep up with news from the SHARP Logger Program and our partners on the News and Upcoming page.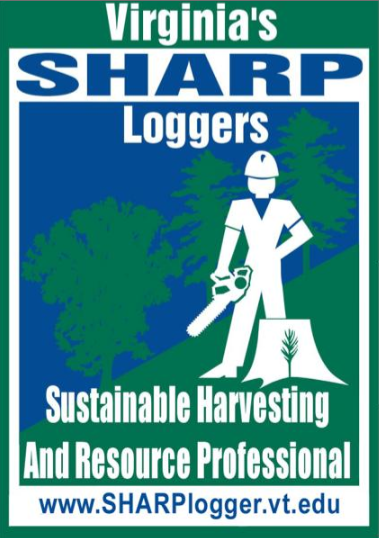 The goal of the forest products industry in Virginia is to train every logger and forester in the Commonwealth in the principles of sustainable forestry, environmental protection and workplace safety.
Since 1996, more than 3,700 loggers, foresters and others have received this training through the SHARP Logger program. This represents the vast majority of the logging firms that operate in Virginia. Virginia Tech Forestry Extension maintains a complete database of all loggers, foresters and others who have completed this training.
Companies that participate in the SFI® Program are committed to support the SHARP Logger Program, to ensure that SFI Standards are applied on their own lands, and to promote sustainable forestry throughout the Commonwealth. This ensures that sustainable forestry principles are followed on the vast majority of timber harvest sites in Virginia.
This training is provided at no cost to the SHARP Logger participants. It is funded by a voluntary assessment on each ton of logs and wood fiber produced annually by the companies that participate in the SFI Program in Virginia, plus an assessment on each acre of Virginia forestland managed by landowners who participate in the SFI Program.
Instruction is provided by Virginia Tech, Virginia Cooperative Extension Service, Virginia Department of Forestry, forest products industry professionals, and others. The SHARP Logger Program is coordinated by Dr. Scott M. Barrett and Ms. Karen Snape at the Virginia Tech Department of Forest Resources and Environmental Conservation.
The program was developed and is directed by the Virginia SFI Implementation Committee, which includes representatives from the following organizations:
SHARP Logger Training Requirements
To achieve SHARP Logger standing, participants must complete a core program of 18 hours of classroom and field training (sample agenda).
Logging Safety (6 Hours)
This includes OSHA Logging Safety Standards and Record Keeping Requirements, Logging Equipment Safety, Log Truck Safety and Chainsaw Safety.
Sustainable Forestry (6 Hours)
This session combines classroom sessions with field exercises. Participants review the principles of sustainable forestry and then tour a forest site to observe examples of forest ecology and silviculture (development and care of healthy forests). Also included are discussions of logging aestheticsand logger/landowner relationships.
Harvest Planning and Best Management Practices (6 Hours)
Harvest planning includes visiting a forested site, discussion of how to use topographic maps and training on the essential elements for an environmentally sound harvest plan. After discussion, participants form small teams and develop harvest plans for the tract.
The Best Management Practices (BMP) exercise is conducted on a recently harvested tract. Topics of discussion include local, state and federal water quality regulations and the comparison of forestry to other non-point sources of water runoff. Participants form teams and perform a BMP audit of the tract under the guidance of a professional forester.
To maintain their standing, SHARP Loggers must accumulate 12 credit hours of continuing education (CE) during each three year period following the completion of the core program, including a REQUIRED 3 credit hour SHARP Logger Update Class. Virginia Tech Forestry Extension makes these classes available. See the currently available scheduled classes and what counts as CE credit hours.
Additional Information